Autel MaxiCOM MK906 Pro-TS Equal to MaxiSys MS906 Pro TS + 21 Languages with 36+ Service
Autel MaxiCOM MK906 PRO TS, as upgraded version of Autel scanner MS906 PRO TS/ MS906TS, integrates all functions of MS906 PRO/ MS906BT/ MK906BT with comprehensive TPMS function. Breaking through the language and IP restrictions of MS906 PRO TS, MK906 PRO TS automotive diagnostics scanner covers 20+ languages, you can switch...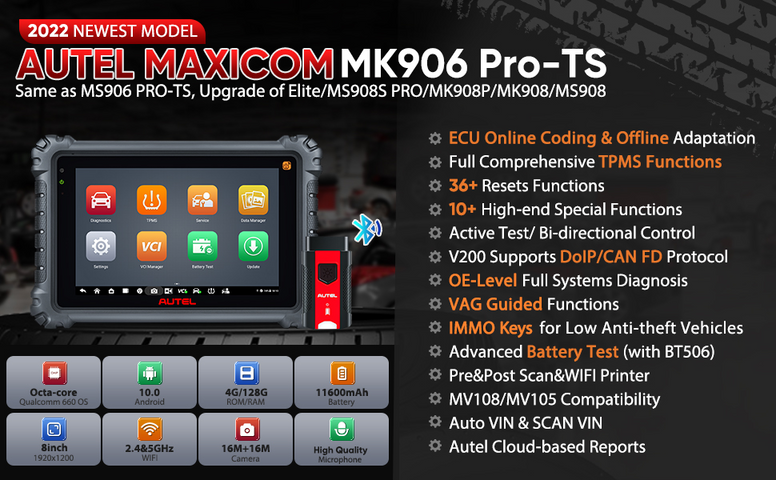 Autel MaxiCOM MK906 PRO TS, as upgraded version of Autel scanner MS906 PRO TS/ MS906TS, integrates all functions of MS906 PRO/ MS906BT/ MK906BT with comprehensive TPMS function.
Breaking through the language and IP restrictions of MS906 PRO TS, MK906 PRO TS automotive diagnostics scanner covers 20+ languages, you can switch language free. NO IP restriction let you work in everywhere.
Q: What is the difference between MK906PRO TS and MS906 PRO TS?
A: Same functions, Same money but more language support, without IP restriction.
Highlights of the MK906 PRO-TS:
Top-level hardware for extraordinary running experience

: Qualcomm 8-core processor, Android 10.0 OS, 8-inch LCD touch screen, 1920*1200 HD resolution, 4G RAM & 128G ROM, front/ rear dual 16 MP cameras, super long 11,600 mAh rechargeable battery, dual-band (2.4 GHz and 5.0 GHz) Wi-Fi, V200 new protocol supports more vehicles.

Complete TPMS features

: Ttop TPMS functions and solve 99% of TPMS problems, check TPMS system health, activate 99% TPMS sensors, program Autel MX-Sensors, turn off TPMS lights, and relearn sensors, retrieve OEM part numbers for sensors, retrofit TPMS modules, etc.

Advanced ECU online coding and Adaptation

: Same as MS906 PRO-TS/ MS908S Pro/ MK908P/ Elite: MK906 Pro-TS comes with advanced ECU online coding, you can customize vehicle settings, online refresh car hide advanced functions, disable annoying functions, Reprogram the adaptive data of certain components after repair or replacement to improve car performance, allowing your car from low-end to high-end directly.

36+ special maintenance functions

: such as TPMS, oil reset, EPB, BMS, DPF, injector coding, throttle, IMMO, headlight, CHG tire size, Trans Adaption, battery test, ABS, seat Chair matching, gear learning, safety systems, cylinders, etc.

OE system-wide diagnosis

: perform full system scan on Engine, Body, ECM, TCM, ABS, SRS, BCM, IMMO and other systems. Also including advanced functions such as component test, active test, etc.

Bi-directional Control/ Active Test

: it can simulated sensor send command to specific actuator, and judges whether repair well according to the response. Technicians can judge the true condition of the faulty systems according to active test.

Support CAN FD/DoIP Protocols

: access new communication protocols of CANFD (cover MY2020+ GM models), and DOIP (compatible with BMW E/F/G Chassis, Jaguar, Land Rover vehicle makes)

2022 Extended Functions

: VAG guided function (for Bently, VW, Audi, Skoda, Seat, Man LD), FCA Auto Auth for FCA vehicles after 2008, Autel cloud diagnosis report, vehicle battery diagnosis (work with BT506), oscilloscope (work with MP408), endoscope (work with MV105/MV108), Wi-Fi printing, etc.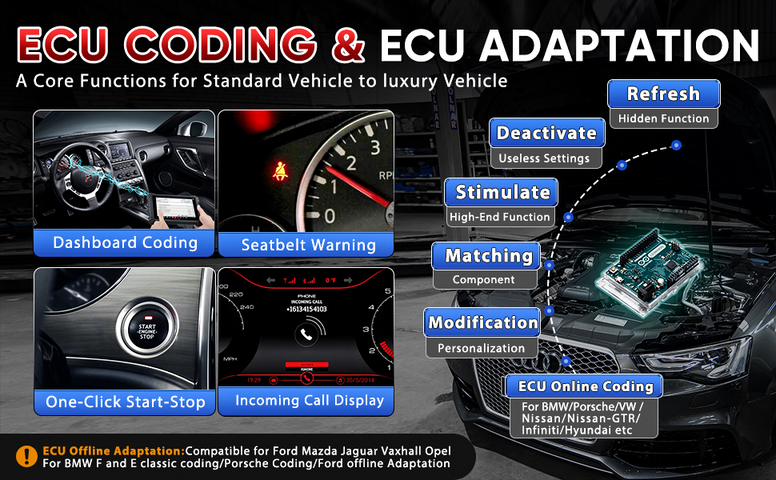 ECU Online Coding, ECU Offline Adaptation
Same as Elite/ MK908P/ MS908S PRO, Autel scanner MaxiCOM MK906 Pro TS with ECU online coding to improve vehicle performance by matching vehicle components and on-board systems.
ECU Online Coding

: Access online data directly from the server, and change vehicle settings by selecting specific parameter values

 

to achieve custom settings and refresh hidden functions. It supports

 

ECU Online Coding for BMW F and E chassis, VW, Porsche/ Nissan/ Hyundai, etc; Offline Adaptation for Ford.

Component Match

: programming adaptive data to relearn replaced/repaired ECU modules

Custom parameter Settings

: After entering into online coding module, you can change specific values to custom settings for vehicle's different modules: doors and windows, rearview mirrors, etc.

Disable Annoying Settings

: Seatbelt warning sounds, Automatic start/ stop,Warning signals coding.

Enhance Vehicle Performance

: Improve fuel efficiency, unlock high-end functions, etc
Vehicle customization function reference:
Locking the doors once a certain speed is reached(e.g. from 15 km/h); Seatbelt warning sounds; Mirrors automatically folding and unfolding; Closing the windows after locking the car door with the key; Lighting coding; The on-board computer also runs many functions in the lighting system; Flashing the brake lights during emergency braking; Activating/deactivating daytime running lights; Changing the brightness of daytime running lights; Flashing of the headlights when locking or unlocking the doors via the remote control; Flashing of the headlights when the alarm system is triggered; Dashboard coding; Displaying of the real speed via GPS signal; Displaying the amount of fuel consumption at a given speed; Changing the brightness of the dashboard; Displaying the optimal gear changing time in eco or sport mode; Select whether the display should be on the dashboard or head-up display; Incoming call display; Warning signals coding etc.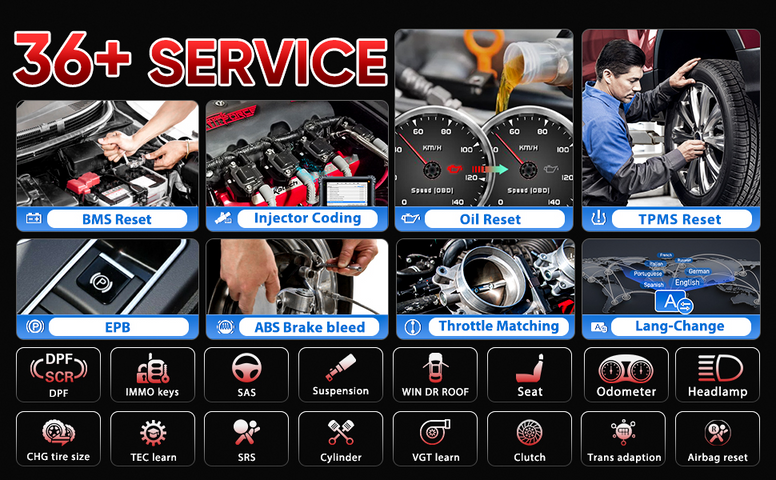 36+ Service Functions --- Covering 99% Daily Needs of Vehicles
Oil Reset

: Reset the service interval and turn off the oil light after an oil change.

EPB Reset

: Reset the brake pads after replacing the brake system.

SAS

: Adjust the steering angle, clear the fault memory of the steering sensor, and turn off the steering wheel warning light.
DPF

 

Reset: perform DPF regeneration
BMS

 

Reset: Re-match the control module and motor sensors to make battery detection more accurate.

Throttle Relearn

: Allows you to initially set the throttle to adjust the amount of intake air.

ABS Bleed

: Performs the ABS Brake Bleed function to circulate the ABS pump to expel air from the ABS.

Fuel Injector

: After replacing or adjusting the fuel injector code, correct the fuel injection quantity of each cylinder accurately.

Transmission Matching

: Resets the adaptive shift points in the automatic transmission control unit.

Gear Learning

: Crankshaft position sensor learns crankshaft tooth machining tolerances and saves to tablet for more accurate engine misfire diagnosis.

Key Programming/IMMO

: Disable lost vehicle keys and program a new replacement key fob.

still growing...
In addition to the above functions, more special functions have been added: Steering Position Sensor Calibration, Zero Calibration, Injector Balance Test, ECU Configuration, Idle Speed Learning Reset, ABS Initialization, Seat Weight Sensor Calibration, Fuel Adjustment Reset settings, cylinder power balancing, stop/start reset, VGT Turbo Calibration, component matching, crankshaft sensor relearn, language changes, A/F settings, power balancing, and more.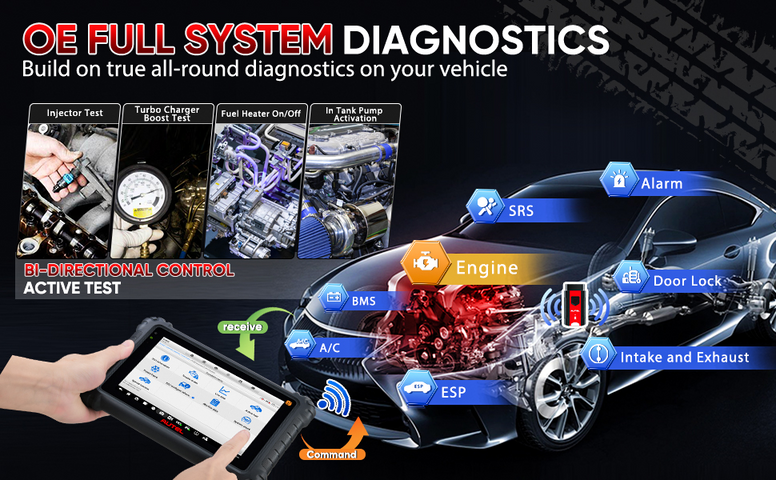 All System Diagnostics in Original Level:
Autel obd2 scan tool MK906 PROTS provides full system diagnostics such as engine, fuel system, ignition system, electrical system, exhaust system, suspension and steering system, braking system, frame and body diagnostics, etc. It can read/erase DTCs, view live data, and perform active tests to find all potential issues.
Bi-Directional Control/ Active Test:
Bi-Directional Control can detect various system components of the car and troubleshoot quickly, such as

 

injector test, evaporative emission test, injector hum test, open/close front and rear side ACM solenoid valves, fuel and Valve test, cycle air conditioning, clutch switch, left clutch solenoid test, accelerator test, throttle adjustment, close/open cylinder correction, oil pressure control test, dynamic camera aiming, vehicle level calibration, brake vacuum pump, wiper on/off /windows/mirrors/sunroofs/headlights/horns, etc.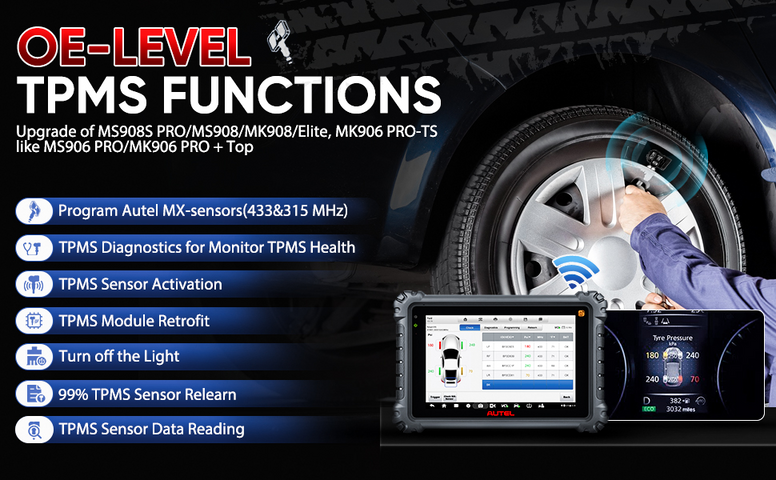 Superior TPMS Functions---Higher Than Pro TPMS Scanner
Autel MaxiCOM MK906 Pro-TS has comprehensive TPMS function and provides one-stop solution, which can monitor tire pressure all the time; display the current tire pressure and temperature; alarm in high tire pressure ; alarm in high tire temperature; rapid air leakage alarm; crack detection, Cold tire pressure, Set the corresponding standard pressure value.
Activates 99% Sensors:
Advanced TPMS scanner MK906Pro-TS allows users to activate 99% of the sensors on the market to obtain sensor data such as: sensor ID, tire pressure, tire temperature, battery condition and sensor position, etc. Set the stage for relearning or coding.
Relearn All Known Sensors:
After replacing/ adjust sensor or others changed, it is necessary to relearn sensors. MK906 PRO-TS provides relearning methods for 99% of mainstream vehicles on the market, it can write original sensor IDs into the vehicle ECU for sensor recognition with 3 options

 

1)Stationary Relearn, 2)Automatic Relearn, OBD Relearn
Program Autel MX-sensor:
Autel car diagnostic scan tool MK906 PRO-TS allows you to program original data into Autel MX-Sensor and replace broken sensors with low battery life or non-functioning ones. Autel TPMS scanner MK906 Pro-TS offers 4 programming modes on 433 MHz & 315 MHz sensors:

 

Copy by Activation, Copy by OBD, Copy by Input and Auto Create

.
One-Click TPMS health check:
It can check TPMS system health status, read/clear DTC, read real-time data.
Tire Retrofit:
This is an additional TPMS feature that is a benefit for cars that don't install TPMS monitor. With TPMS retrofit, TPMS module can be easily added to dashboard for monitoring tire pressure of the car in real time, keep the vehicle safe during high-speed driving, and protect the driver from harm.
2022 Shinning Features---10+ High-end New Functions
Battery Diagnose

: work with BT506 to perform complete battery detection functions, including battery reset, battery registration, in-vehicle and in-vehicle testing, etc.

V200 VCI

: Support CAN FD/DoIP Protocols, access new communication protocols of CANFD (cover MY2020+ GM models), and DOIP (compatible with BMW E/F/G Chassis, Jaguar, Land Rover vehicle makes),

FCA Auto Auth:

 

To activate FCA-related vehicle permissions, just register an account to log in to the FCA server, you can activate complete functions from diagnosis to TPMS, services, and online coding.

VAG Guided Function

: guide you to repair your vehicle like a professional mechanic, mainly for

 

Bently, VW, Audi, Skoda, Seat, Man LD

Wifi Printing

: Print the car diagnosis report at the first time, and quickly share it with the car owner

Autel Cloud Diagnostic Report

: transfer files directly to the Autel cloud, save the tablet running memory, speed up the diagnosis, and do not need to purchase additional memory cards

Compatible with MV108/MV105 endoscope

: you can clearly understand the internal structure of the car, and present it on the tablet in pictures or videos

Compatible with MP408 oscilloscope

: test the DC signal, the voltage amplitude of the AC signal, measure the period of the AC signal, etc.

Pre/Post Scan

: car pre-scan and post-diagnosis scan report, you can form a report comparison, clearly check the car problem

Support 14+ languages

: The upgrade version of MS906 PRO TS provides free language switching, no IP restrictions, free switch
* Paying with PayPal
* All product prices include tax - Free Worldwide Shipping
* Delivery within 3-5 days/30-days return or replacement
* Autel USA has NO responsibility to serve any Autel products sold on Website.
* Any questions or technical support Please contact us ↓↓↓
Whatsapp: +(86) 177 1898 9036
Email: sales@autelmaxisys.com
Payment Method


Our paypal account is sales@autelmaxisys.com
Why Paying with PayPal?
Payment is traceable. You can trace the status of your payment using your PayPal account.
Payment does not require you to use your credit card online (you can transfer directly from your bank account).
PayPal will protect your personal details if you choose to pay by credit card.
How to pay by PayPal?
Once you have your cart ready to go, you can head over to the checkout page to continue with your purchase. You will be asked to fill in your shipping/invoice details.
We accept all major credit cards through Paypal. PayPal accepts Visa, Mastercard, American Express, Discover.
If you run into any problems during this procedure, send us an e-mail to

 

sales@autelmaxisys.com and we will get back to you as quickly as possible.
[Free Shipping From US/UK]
⏰Handling time>> Ship within 8-24 hours after payment.
😊Returns>> Fast refund for any dissatisfaction within 30 days, 100% money-back guarantee.
🚚Shipping>>Shipping Time: 3-7 Days
🏆After Sales Service >>1-5 Years Warranty(Products Description), Support Trade-in For New Within 1 Year

Where is my order shipped from & Where can you ship to?
We can deliver to most countries in the world. Your order will be delivered from the warehouse closest to your address using that country's postal service or a premium courier service like DHL, FedEx, UPS, DPD, or Royal Mail. Please check our warehouse locations below to estimate where is your order shipped from.

Your Address >>> Shipping Location >>> Delivery Estimated
United States/ Canada >>> CA, US >>> NJ, US >>> 3-5 Days
Europe >>> Germany >>> 5-7 Days
United Kingdom >>> Leicestershire, UK >>> 5-7 Days
Australia >>> Sydney, AU >>> 7- 10 Days
Other Countries >>> HongKong >>> 7-15 Days

What is the shipping cost?
- Free Worldwide Shipping

Shipment processing time
All orders are processed within 12 hours (excluding weekends and holidays) after receiving your order confirmation email. You will receive another notification when your order has shipped.

How do I check the status of my order?
When your order has shipped, you will receive an email notification from us which will include a tracking number you can use to check its status. Please allow 48 hours for the tracking information to become available.

Who is responsible for paying duties for international shipments?
- For international order. If the items don't ship from your local warehouse in your country/ region, you will be responsible for the import duty, but please don't worry, We will decrease the declared value to reduce your import tax.

For more details of the Import Tax, please visit Import Duty

Returns, Refunds, and Exchanges
We provide a 30-Day Returns Service after delivery, If you are not satisfied with the item you bought or change your mind, please contact us for a return shipping address and ship all the items back to us for a refund in their original package.

For more details of the return policy, please visit our Return Policy
Can I return my product?
We accept return within 30 days from the receipt of your order to return goods you bought from us ( Except Autel Software Update Service).
Please email
sales@autelmaxisys.com
to contact us and we will provide you a return address or shipping label. And you need to ship the item back to the address we sent for a refund.
Please do not ship items back without any request. Otherwise, we can not handle your return and it will be destroyed. Then the refund will be not issued.
Who pays for the shipping?
If the item is being returned for a quality reason, like it is damaged, faulty and not working, or you receive a wrong item, please contact us and we will cover the cost of shipping. If possible, we would like to see pictures of the damage, video for not working.
However, If you are not satisfied with the item you bought or change your mind, you can get a full refund or exchange it for another item you want. But the buyer needs to be responsible for the return shipping fee.
When should I send the product back?
You should send it back within 30 days of your return request.
Please put the product with all of its accessories, free gifts and manuals back into its original box. Once package was picked up by post office, please get back to provide us the tracking number. (VERY IMPORTANT!)
How and when will I get my money back?
Once we receive the products and our staff check all is fine, you will get a confirmation by email. Then your money will be paid back within 3 business days in the same way you made the purchase.
As our staff need to handle tons of parcels, we recommend you can keep an eye on your return and remind us to check your case in time.
If we are on holidays, please allow us process your refund as soon as we get back to work.
How to cancel my order?
Please contact us within 12 hours to cancel your order before it has been shipped.
If your order has not been dispatched, we will cancel the order and make a refund.
If the item is on its way to you, you have to follow our return policy and send it back to us then we make a refund.